About María Manola Jewellery
[EN]
María Manola is a Chilean jeweller and designer based in London.
Her work focuses on the constant search of an organic and minimalist aesthetic in jewellery.
Each piece tries to reflect the beauty of imperfection from the inspiring landscapes of the South of Chile and the geological forms of the Andes.
Every handmade facet enlightens and adds a little bit of nature to your everyday.

-
[ES]
María Manola es una joyera y diseñadora chilena basada actualmente en Londres.
Su trabajo se enfoca en la constante búsqueda de una estética orgánica y minimalista en la joyería.
Cada pieza intenta reflejar la belleza de lo imperfecto presente en los paisajes del sur de Chile y en las formaciones geológicas de Los Andes.
Cada faceta hecha a mano, ilumina y agrega un poco de naturaleza a tu día a día.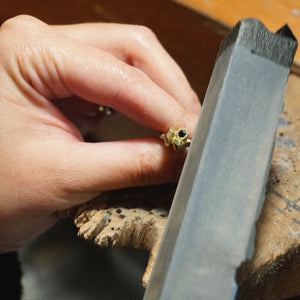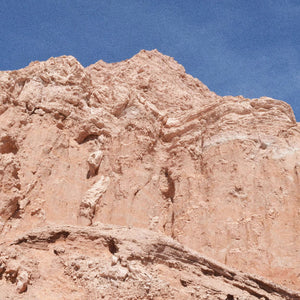 Inspiration / Inspiración
[from greek "λιθος" (lithos)]
[EN]
Lítica Series makes reference to the rocks that are slowly moulded by our rivers. As well as the old work of the carved stone and the sinuosity delivered by the hand of the man or by the persistence of the water. In its different layers and textures the series reflects the interaction of these elements of nature.

-
[ES]
La Serie Lítica hace referencia tanto a la roca como al agua, que lentamente las horada en nuestros ríos. Así como el antiguo trabajo de la piedra labrada y la sinuosidad entregada por la mano del hombre o por la persistencia del agua. 
En sus diferentes planos y texturas la serie refleja la interacción de estos elementos de la naturaleza.
[from greek "γαῖα" (Gaia)]
[EN]
The Greek goddess Gea is the creator of life and death. Gaia represents the soil as the origin of everything that surrounds us, the feminine force of the volcanoes and the Andes Mountains.
Our Gea series reminisces about the stability of the rock and its complex compositions. The irregular beauty of its angles illuminates and contrasts the smoothness of the skin.

-
[ES]
La diosa griega Gea es creadora de la vida y la muerte. Gaia es la tierra como origen de todo lo que nos rodea, la fuerza femenina de los volcanes y la cordillera. Nuestra Serie Gea rememora sensorialmente la estabilidad de la roca y sus composiciones complejas. La belleza irregular de sus facetas ilumina y contrasta la suavidad de la piel.
[from greek "μητέρα" (mitéra)]
[EN]
Sinuous silhouettes and the color of pearls are the protagonists of this series. They evoke the beaches and the organic forms of the Chilean coasts.
Inspired by childhood memories and transcendent women in our lives that used to wear classic jewelry made with pearls.

-
[ES]
Sinuosas siluetas y el color de la madreperla son protagonistas en las piezas de esta serie que evoca las playas y las formas orgánicas de la costa.
Inspirada en los recuerdos de infancia y las mujeres importantes de nuestra vida que vestían clásicas joyas de perlas.


[from greek "γεώδης "(geôdês, 'like the Earth')]
[EN]
This collection is a reinterpretation of the Gea Series, which is based on the feminine force of volcanoes and the Andes Mountains. Now we center ourselves in the concave void of these pieces, that contrasts itself with the angles of the exterior volume, obtaining a bigger format with different textures, lights and shadows that make reference to the diversity of feminine beauty.

-
[ES]
Esta colección es una reinterpretación de la Serie Gea, la cual se basa en la fuerza femenina de los volcanes y la cordillera. Ahora nos centramos en el vacío cóncavo de las piezas, que contrasta con las facetas del volumen exterior, logrando un mayor formato con diferentes texturas, luces y sombras que hacen referencia a la diversidad de la belleza femenina.